October News
Town Council Mayor
10/5/2020 8:58:30 AM
Aneurin Bevan Community Health Council: Patients Voice News Bulletin, issue 38 Summer 2020
Aneurin Bevan University Health Board: Clinical Futures Update, Issue 2
Aneurin Bevan Community Health Council:  Public Feedback about NHS Services during the coronavirus.  Issue 4 August 2020 and Issue 5 September 2020
As NHS services change across Gwent: The Grange University Hospital opening 17th November 2020  -  Change in services leaflet
Gavo: Voluntary Voice Summer 2020 Newsletter
Ways to support the 2020 Poppy Appeal
There are more ways than ever that you can support the Poppy Appeal. Your donations help us to provide invaluable support to the Armed Forces community
Visit your local Supermarket

Supermarkets including Sainsbury's, Tesco, Morrisons, Aldi and Asda stores as well as online retailers including Amazon and eBay, and Lloyds Bank and Santander are supporting this year's Poppy Appeal. There are a variety of cashless donation options at each location with Morrisons and Sainsbury's also offering people the opportunity to add a donation to their shopping bill.
Donate online
From 6 October, when you donate online you'll receive a link to a printable poppy which you can print off and place in your window to show others you're supporting the Poppy Appeal.
Find out more: https://www.britishlegion.org.uk/get-involved/ways-to-give/donate 
Text to donate
To donate £2 text POPPY2 to 70545 

To donate £5 text POPPY5 to 70545 

To donate £10 text POPPY10 to 70545 
Find out more (inc T&Cs): https://www.britishlegion.org.uk/get-involved/ways-to-give/donate 
My Poppy Run
Our park run events usually take place in October and November, but these are unable to take place this year due to social distancing measures. Join us instead for My Poppy Run, our virtual event, and support your Poppy Appeal in 2020.Choose to run, jog or walk, maybe take your four-legged friend along too.

Find out more: https://www.britishlegion.org.uk/get-involved/things-to-do/events/my-poppy-run


Poppy Shop

The Poppy Shop has an extensive range of products, from iconic poppy pins and jewellery, to clothing, stationery, homeware and everything in between.

100% of the profits from the Poppy Shop go towards funding the Legion's ongoing work in supporting the Armed Forces community, serving and ex-serving personnel and their families. 

By shopping online at the Poppy Shop this Poppy Appeal, you're helping us to provide vital services and support, from expert guidance and advice, to recovery and rehabilitation.

Find out more: https://www.britishlegion.org.uk/get-involved/ways-to-give/shop/poppy-shop


Poppies in the Post

Every year, our volunteers distribute over 40 million poppies to help our vital work in supporting the Armed Forces community. Due to COVID-19 this year, many of our volunteers are unable to help. That's why we are asking kind supporters like you to help distribute poppies to your friends and neighbours so that we can continue to support our Armed Forces community in their time of need, ensuring their unique contribution is never forgotten.

Request 20 poppies free of charge by completing the form below. You can then give them to your friends and family and ask them for a donation to support our Armed Forces community.

Along with the poppies, you will also receive information on how you and those you share your poppies with can give as well as how to distribute the poppy safely and ensure everyone can wear the poppy with pride.

Find out more: https://www.britishlegion.org.uk/get-involved/ways-to-give/poppies-in-the-post

Printable Poppy

This Poppy Appeal, we want to ensure that everyone can still get their poppy, so we've developed an A4 poster of the iconic Remembrance Poppy that you can download, print, and display at home, perhaps in your front window.

Download a full colour poster or one that you (or someone you know) can enjoy colouring in: https://www.britishlegion.org.uk/get-involved/ways-to-give/donate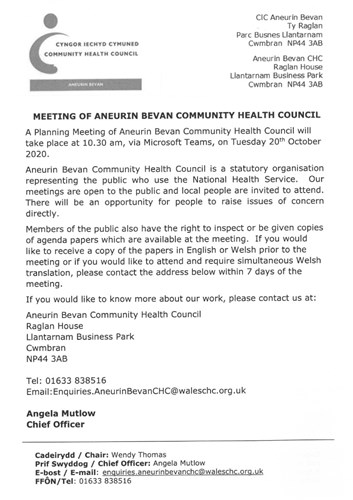 Aneurin Bevan University Health Board, Clinical Futures Update October 2020 Newsletter
Older People's Commissioners for Wales September 2020 Newsletter