June News
Town Council Mayor
6/4/2020 11:15:39 AM
NOTICE OF APPOINTMENT OF DATE FOR THE EXERCISE OF ELECTORS' RIGHTS
Under the Public Audit (Wales) Act 2004
Accounts and Audit (Wales) Regulations 2014 (SI2014/337)
Tredegar Town Council
ACCOUNTS FOR THE YEAR ENDED 31 MARCH 2018
1. Date of announcement: 29th June 2020.
2. Each year the body's annual accounts are audited by the Auditor General for Wales. Prior to this date, any interested person has the opportunity to inspect and make copies of the annual accounts and all books, deeds, contracts, bills, vouchers and receipts etc relating to them for 20 working days on reasonable notice.  For the year ended 31st March 2020, these documents will be available on reasonable notice on application to:
                              Name                                                      Annette Jones
                              Position in Body                                        R.F.O.
                              Address                                                   Tredegar Town Council, Bedwellty House & Park, Tredegar Gwent  NP22 3XN
                              Phone Number                                          01495 722352
between the hours of 9am and 1.30pm on Mondays to Fridays (excluding public holidays).
                              Commencing on                                   1st September 2020
                              and ending on                                      28th September 2020.
3. From 29th September 2020 until the audit has been completed, Local Government Electors and their representatives also have:
the right to question the Auditor General about the accounts. The Auditor General can be contacted via BDO: and
the right to attend before the Auditor General and make objections to the accounts or any item in them.  Written notice of an objection must first be given to the Auditor General via BDO.  A copy of the written notice must also be given to the Council. 
BDO can be contacted at:
BDO LLP, Arcadia House, Maritime Walk, Ocean Village, Southampton SO14 3TL.  Tel: 029 2034 2777
4. The audit is being conducted under the provisions of the Public Audit (Wales) Act 2004, the Accounts and Audit (Wales) Regulations 2014 and the Auditor General for Wales' Code of Audit.
New Drive Through Covid-19 Test Station at Cwm
A new drive-through testing centre in Cwm will play an integral part in the response to Coronavirus in Gwent.
The Health Board and Welsh Government has worked with Blaenau Gwent County Council to open a new site at the former Marine Colliery in Cwm, near Ebbw Vale. The site will be open for pre-booked appointments in the next few days and further details will follow.
Anyone who is symptomatic of Covid-19 can book a test online by visiting www.nhs.uk/ask-for-a-coronavirus-test . People who are tested at the new site will be able to swab themselves without leaving their vehicle.
The symptoms of Covid-19 are a new, persistent cough, a high fever and loss of taste or smell. The Health Board is encouraging anyone who experiences any of these symptoms to get a test as soon as possible. If you need urgent medical advice, you should contact 111 or your GP. If are experiencing life threatening symptoms, please call 999.
Below are the Film links: -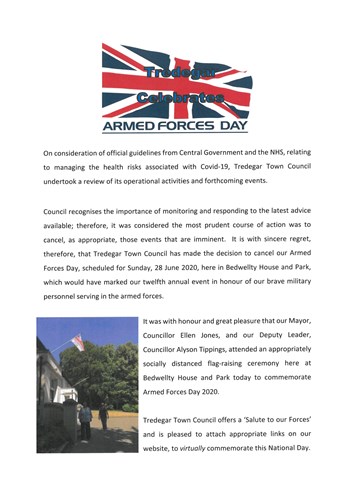 Unveiling of the 3rd Monmouthshire Regiment Stone  https://youtu.be/3_zyJLkbhg4
Tredegar's Remembrance Sunday 2016 https://youtu.be/jwLa9PNGnIQ
The Conscientious Objectors of South Wales in WWI https://youtu.be/-kcdJEtqKHM
TREDEGAR REMEMBERS T2520 https://youtu.be/Ivmj_MyQOus
Blaenau Gwent in Unique Objects # 2 The WW2 German Photo of Ebbw Vale Works https://youtu.be/-h3TZPQyX4s
Bert and The Trench Dog https://youtu.be/xYAznohAA40
Tredegar in the Trenches - The 1918 visit of 'Egbert' https://youtu.be/6jBVdyOPQtM
The Third Monmouth Regiment Memorial Stone Dedication https://youtu.be/cDFjWsBJfQQ
Unveiling of the Memorial Bench at Princetown and Tafarnaubach Memorial Garden https://youtu.be/oduSyGLwPdY
The Adventure of RFA Mrs Orangeleaf: The Pirates https://youtu.be/PK8LAwHj51U
The Adventure of RFA Mrs Orangeleaf: Humphrey the Seal and Peter the Penguin https://youtu.be/z3A8DwxvBqE
Gavo: Voluntary Voice Newsletter, Spring 2020 Edition 
Tredegar Wales: A trip around my home town:    https://trips.lonelyplanet.com/s/b93uSr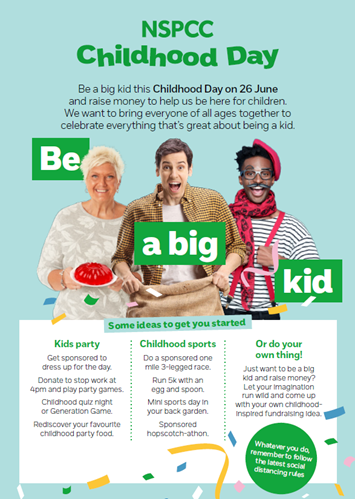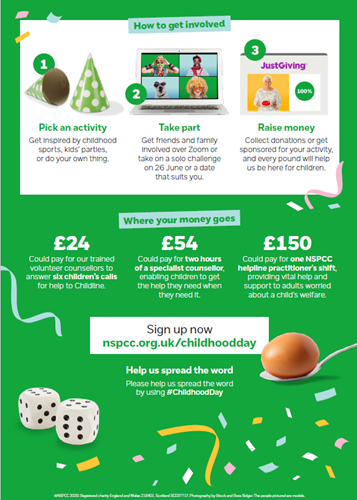 How can we best provide sustainable care and support to help older people live happier and more fulfilling lives? 
Setting priorities for social care research in Wales
Health and Care Research Wales and Social Care Wales want to identify research priorities for the social care and support of people aged 65 and over. They have launched a survey aimed at people in Wales aged 65 and over who have received care or support, and professionals, volunteers and family members who provide that care. 
Please take part in the survey. It will take about 10 minutes to complete and is open from 8 June to 6 July 2020.
https://www.healthandcareresearch.gov.wales/news/setting-priorities-for-social-care-research-in-wales/
What you think matters!
Do you know the signs of elder abuse?

The Police & Crime Commissioner for Gwent is urging residents to learn how to spot the signs of physical, emotional, and financial abuse of older people.
Monday 15 June is World Elder Abuse Awareness Day, which aims to focus global attention on the growing problem of elder abuse.
Tackling violence against women, domestic abuse and sexual violence is one the key priorities for the Commissioner, Jeff Cuthbert. He is working with the VAWDASV Regional Team and Gwent Police to encourage people experiencing it to seek help, and for residents to raise flag safeguarding concerns with professionals.
Jeff Cuthbert said: "Supporting vulnerable people is one of my key priorities and at the heart of my Police and Crime Plan for Gwent. We know that older people are particularly vulnerable to abuse and exploitation, and we fear that opportunities for this to happen have increased due to the increased isolation caused by Covid-19. There will always be people who seek to exploit the vulnerable, so it has never been so important for people to keep an eye out for any signs of abuse.
"We need to ensure all our older residents know what abuse is and that, if they experience it, they need to report it. We also need to encourage friends, family, professionals, volunteers and neighbours to speak out if they think someone might be being abused
"Please don't let them suffer in silence. Gwent Police are here for you and they will listen to your concerns."

Chief Constable of Gwent Police, Pam Kelly, said: "If you're giving an elderly family member, friend or neighbour a hand, keep an eye out for any signs of abuse. Gwent Police are here to help so please, if you have any concerns, don't be afraid to contact us."
If someone is being abuse, do you know what to look for?
Physical signs can include cuts, bruises, wounds, burns, broken bones, untreated injuries, poor skin condition or skin hygiene, dehydration and/or malnourished, weight loss, and damaged clothes or items in the home.
Psychological signs can include unlikely stories, reluctance to talk openly, confusion, anger without apparent cause, sudden behaviour changes, being emotionally upset or agitated, unexplained fear or becoming withdrawn, non-communicative or non-responsive.
Financial signs can include changes to a person's banking, wills or assets, unpaid bills when someone else is supposed to be paying them, excessive care costs, valuable items disappearing, and lack of simple affordable amenities.
VAWDASV Gwent Regional Lead Advisor Janie Dent said: "One in four women and one in six men are affected by abuse at some point their lifetime. They are often too scared to speak out or may not know how to get help. We all have a role to play in tackling all types of abuse, including elder abuse.

"If you're a victim of domestic abuse, or know someone who is, take a moment to stop and report it. There are wide range of specialist services available in Gwent that can help you."
Free online training is available to residents to help tackle all forms of VAWDASV. Welsh Government wants anyone who is still in a position to spot potential abuse, such as volunteers, key workers, postal workers and shop staff, to be able to recognise the signs of abuse and know how they can safely help. Online training can be accessed via https://learning2.wales.nhs.uk/login/index.php
For more information about reporting someone you believe to be vulnerable, go to www.gwentsafeguarding.org.uk