April News
Town Council Mayor
4/2/2020 9:35:18 AM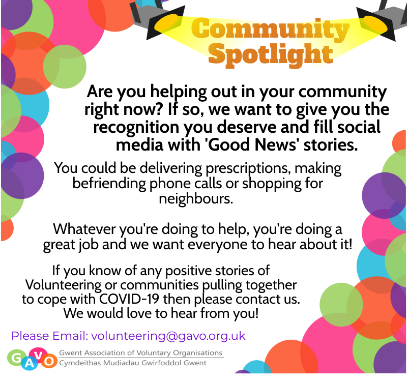 Latest Covid-19 funding update from WCVA
The Welsh Government's newly published guidance 'Covid19 - Support for Tenants in Wales', developed by the Welsh Government Housing directorate.  This is general guidance intended to help renters maximise income to minimise risk of debt and rent arrears. 
Sports Wales Emergency Relief Fund update
Latest update (14.04.2020) on available Coronavirus funding
Gwent Wellbeing Champions: Coronavirus Newsletter, issue 1
Welsh Government Press Release: £18m support for the cultural, creative and sports sector in Wales
Blaenau Gwent County Borough Council: Gwent sets up Locality Teams for most vulnerable people in Covid-19 outbreak
Nine new dedicated locality response teams have been set up across Blaenau Gwent Council to support the most vulnerable residents during the Covid-19 Pandemic.
Support is available to vulnerable residents including anyone who has been identified by NHS Wales as being extremely vulnerable.  Our priority is to help those who have no other means of support from family, friends, other people in their communities or carers or community groups.
The Council is asking anyone in this situation to get in touch on 01495 311556.
This could be help with everyday tasks such as food shopping, picking up medication or walking the dog. They may need advice about staying safe and well at home, and need to find out what is available in their local community to enable them to do that. They may be feeling anxious and just want to talk.
The locality team will work to put individuals in touch with the right people to provide the support and advice they need, keeping in touch to make sure they are okay.
Leader of the Council, Cllr Nigel Daniels says:
"We are living in unprecedented times fighting against this terrible virus, and the Council is working hard to continue to deliver our most critical services. At the forefront of this work is making sure we are looking after our most vulnerable residents. These dedicated Locality Teams will be working with a range of partners and community groups to deliver whatever support is required. I'd like to thank everyone involved for pulling together and helping us to keep our residents safe during this difficult time.
It could be just a simple task that needs doing or even just a friendly ear, but it could make all the difference to a resident during this anxious time.
My simple message is this -  you're not alone, we are here for you, please just call."
The Council will regularly reach out to those most vulnerable residents identified by NHS Wales over the period of shielding.
The localities are:
•           North Tredegar
•           South Tredegar                   
•           Nantyglo & Blaina               
•           Brynmawr                            
•           North Ebbw Vale                 
•           South Ebbw Vale                
•           Central Ebbw Vale              
•           North Abertillery                   
•           South Abertillery